Cisco CCNA Routing and Switching
Learn to leverage the power of Cisco CCNA Routing and Switching to deliver cloud-based solutions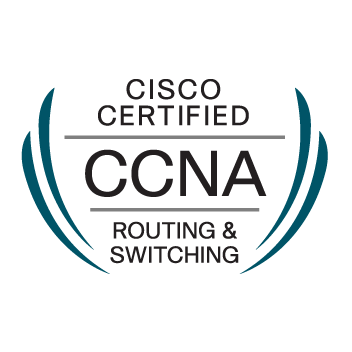 Cisco CCNA is widely recognized as the entry level certification for Cisco technology networking skills. The Cisco Certified Network Associate validates a professional's ability to select, connect, install, configure, operate, and troubleshoot medium-size routed and switched networks, including implementation and verification of connections to remote sites in a WAN.
CCNA certification is often one of the first things employers look for when growing their IT department. There are five variants of the CCNA and each Cisco career certification path requires one version of the CCNA at the associate level of training. This makes the CCNA a requisite part of the Cisco certification path, and a strong recommendation of most network training paths designated by many IT departments.
The target audience is anyone who has interest in networks or Internetworking, involved in implementing or supporting networks and want to enhance their core routing and switching skills.
Topics covered are as follows:
Network Fundamentals
LAN Switching Technologies
Routing Technologies
WAN Technologies
Infrastructure Services
Infrastructure Security
Infrastructure Management
What you will get in our Bootcamp:
30 hours of top-quality lectures, demonstrations and illustrations by our CCIE certified Trainer with four years of university teaching experience and 10+ years of industry experience.
Actual Hands-on lab exercise, Practice labs on real routers and switches.
Printed Study Guide and Lab Manual
Student lab manual with full solutions
CCNA Certification Exam Voucher
Snacks available all day
Breakfast and Lunch of your choice will be provided on both days
Prescriptive tests which focus on latest CCNA exam