Azure Fundamentals – AZ-900
Learn to leverage the power of Microsoft Azure to deliver cloud-based solutions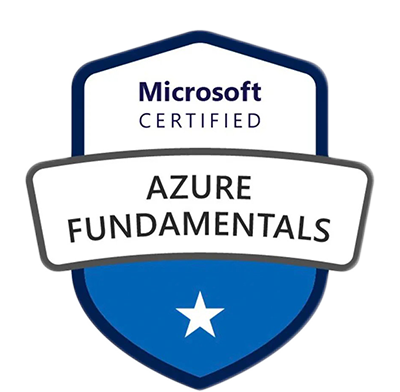 This course is the very first about Azure and what this technology has to offer IT professionals. It will prepare you for your first steps with Azure and enable you to understand various dimensions of Azure concepts and architecture. End goal is to prepare you for the Azure Foundations AZ 900 exam.
Azure Certifications demonstrate technical expertise, help you advance in your career, and help employers find skilled cloud professionals.
Our 2-day course covers specific Azure Cloud Services, necessary for passing the exam and being able to understand the basics of Azure.
This course was designed by Azure Certified professionals with many years of field and management experience.
Topics Covered:
Describe Cloud Concepts
Describe the benefits and considerations of using cloud services
Describe the differences between Infrastructure-as-a-Service (IaaS), Platform-as-a-service (PaaS), and Software-as-a-Service SaaS.
Service (PaaS) and Software-as-a-Service (SaaS)
Describe the differences between Public, Private and Hybrid cloud models
Describe Core Azure Services
Describe the core Azure architectural components
Describe some of the core products available in Azure
Describe some of the solutions available on Azure
Describe Azure management tools
Describe Security, Privacy, Compliance, and Trust
Describe securing network connectivity in Azure
Describe core Azure Identity services
Describe security tools and features of Azure
Describe Azure governance methodologies
Describe monitoring and reporting options in Azure
Describe privacy, compliance, and data protection standards in Azure
Describe Azure Pricing, Service Level Agreements, and Lifecycles
Describe Azure subscriptions
Describe planning and management of costs
Describe Azure Service Level Agreements (SLAs)
Describe service lifecycle in Azure
What you will get in our Bootcamp:
2 full days training
Printed study material
Printed lab manual
Snacks available all day
Breakfast and Lunch of your choice will be provided both days
Class Completion Certificate